Join us, as we host this year's Leadership & Advocacy Awards Luncheon! The live event will feature networking, luncheon, keynote speaker, and the awards ceremony. We will host the awards ceremony virtually for those who cannot attend the live ceremony.
Program Agenda (PT):
11:00 am – 12:00 pm: Registration & Coffee Networking
12:00 pm – 2:00 pm: Luncheon & Program 
Keynote Speaker:
Stephanie Owen
T-Mobile
Vice President, Technology & Enterprise Procurement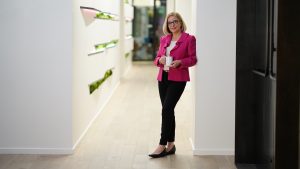 Stephanie Owen is a seasoned procurement executive boasting two-plus decades of global development
experience and sourcing strategy leadership. Her teams are known for negotiating enterprise-defining
agreements and ensuing high-quality vendor relationships. Before joining the Un-carrier, Stephanie
cultivated her commercial acumen within five Global Fortune 1000 companies spanning five industries –
software, hardware, internet, services and resources – in four iconic international locations.
At T-Mobile, Stephanie has transformed the way T-Mobile procurement has done business.
Click here, to read Stephanie's full biography.