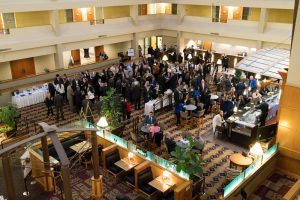 Direct recommendations from Supplier Diversity Executives and MBEs
Northwest Mountain MSDC events provide excellent venues for business networking. While preparing for the 2018 Annual Awards Dinner & Silent Auction, we polled some of our corporate members and MBEs on effective networking. They sent us some of the best practices, tips, and Dos and Don'ts of networking.
Please remember that these are the opinions of contributors and do not necessarily reflect the opinions of the Council, and these apply to Premiere Events. For full legal disclaimer please visit the Council's Disclaimer Page.
Preparing for the Event:
Before you attend an event, decide what success looks like for you. Document your objectives for the purpose of observing what you achieved after participating.
Plan your strategic approach and strategic communication.
Be prepared, review the members list before hand and set a goal for who you want to meet.
Identify important people you want to meet and reach out in advance, if possible. Say "Looking forward to meeting you."
Make the most of your time by ensuring you do your homework and be prepared for those you will be meeting with.
On what to say:
Prepare a short paragraph on exactly what you do. Practice it.
Refine the introduction of yourself and the business your represent – customize an introduction for a corporate target vs an "unknown" individual, but also identify whether you are the business owner, BD rep, etc. We want to know who we're talking to.
Have your elevator speech solid and ready including what is your value proposition specific to those you're targeting at the networking event. A generalized value proposition doesn't always cut it. Elevator speeches should not be more than 3 minutes.
Don't try to land a job, your goal is to make the introduction.
On preparing your questions:
Building rapport with someone is extremely effective if you are good at asking questions – practice listening more and talking less.
Make a list of questions you want to ask your target company. It shows interest and intent. The answers you receive may also help develop your business strategy.
On what to know:
Know your audience: in other words, do your homework on WHO is attending the networking event and then DO research about them before you get to the networking event so you're up to date about their business model, recent press releases & strategy plans.
Check out the company's Supplier Diversity website – not all programs are the same and it will give you a foundation of understanding what you need to say.
Research the company's mission, so you know their company's top priorities and it then becomes apparent you have done your research.
If you can, KNOW what your future potential customer needs are BEFORE the event so that you network with future customers who actually could consume your products or services. A win-win for both parties at a networking event.
On preparing your value proposition:
Be prepared to communicate your value proposition and what makes you different than your competition. (Corporations are contacted by hundreds of suppliers via email, at events, phone calls etc., each supplier wants a contract and would like to do business with us – but why should we do business with you versus the other 99 suppliers who approached us before you? What makes you different? Be prepared and ready to communicate this).
Practice! Practice! Practice!
Practice your introduction with what you want to offer.
Practice on your elevator speech and make it brief but informative. Be professional!
On what to bring:
Bring business cards!
Know who is coming so you can plan what to say and what to bring.
Come in with a targeted list of who you want to make an impact with and what you will offer.
Bring a stenography notebook for writing down contacts. Four columns: Name, Organization, Position, Notes.
Always bring enough of your business cards to any event.
Don't distribute handouts… this is not the time or place.
LEAVE any marketing materials at home – give and collect business cards.
On who to bring:
BRING your owner and decision makers to build those relationships and show the face of your company beyond the sales person.
What not to miss:
Be professional, have a professional presence and proofread your marketing materials. First impressions are important.
(With regards to your business cards) from a print perspective, glossy business cards look cool, but I prefer a semi-matte finish so that I can write on my cards with a ballpoint pen. This may be a website, an app, or a quick tip I can share with someone. It attaches greater value to my name and it's convenient.
Make a list of current or past business partners that you can talk about and use as reference during and after networking.
If you can find an "icebreaker" or someone to make the introduction that is really helpful but not necessary.
A note (or more) on what to wear:
Over dress! Make sure to be in Business Professional Dress (No 2nd chance for a 1st impression).
Dress like an executive.
Wear something to an event that is professional, but memorable! Most business events have a plethora of people wearing black, however bright, solid colors really stand out. While your connection may not remember your name the next time, they may remember something about your outfit.
Dress appropriately & drink responsibly.
Final tip:
When you know that some of your target corporations will be attending a networking event…DO some homework, but DON'T dominate their time. Remember, this is your first opportunity to meet your target and leave a lasting and great impression. Make sure you leave us wanting to further the conversation because having a foundation of a strong relationship will keep you memorable.
Many thanks to everyone who contributed to this blog: Dennis Brooks, Lisa Castillo, Pedro Castro, Lana Gosnell, James Hing, Sharon S. Lucas, Fernando Martinez, Swen Nater.
The above information is intended solely for personal non-commercial use. Any information taken from this page is the full responsibility of the user. While we have taken every precaution to insure that the content is both current and accurate, errors can occur. The information provided is general in nature and should not be considered to be legal, tax, accounting, consulting or any other professional advice or service. Please read our legal disclaimer.